Realms of Flow [VR]
ist a collection of virtual reality experiences with
 unique moods and atmospheres 
designed to calm the mind and drift away
. 
The application combines cinematic visuals with interactive elements for breathing, mindful listening, humming, frequency entrainment and playfulness. 
​​​​​​​
Experience the infinite Realms of Flow!
⦁
Mobile VR

| Meta Quest 2 and above in Meta AppLab
⦁
PC-VR

| OculusVR compatible headsets in Meta 
Rift Store
⦁ 
PC-VR

| all SteamVR compatible headsets on
Steam
Realms of Flow
 is all about calming down and drifting away into deep and soothing states of mind. It utilizes a combination of 
high-framerate stereoscopic 180°-video and interactive elements
for breathing, mindful listening, playfulness, humming, and frequency entrainment.

You can choose from several experiences, each offering a different scenery, general atmosphere and meditative narration.
In the Session Timing options you can set the start time and duration for the different guide features: 
Voice-over, Breathing Guide, Spatial Sounds, Humming Guide, Frequency Entrainment, and Element of Play.
Each feature has various settings that you can adjust according to your preferences. For example, the breathing tempo, which affects a customizable visual focus object, can be a fixed user-defined tempo or controlled using your hand or belly movement.

The focus of this application is less on giving a step-by-step voice guidance, but on creating small cinematic journeys with a poetic and meditative touch.

Realms of Flow strives to offer unique immersive audio-visual atmospheres to provide thoughtful inspiration, evoke emotions, and create interesting, soothing, and meaningful states of mind that will hopefully enrich your palette of being. - Immerse yourself in the infinite Realms of Flow!
​​​​​​​
DeepStates [VR]
is a collection of virtual reality environments designed to calm the mind and drift away. 
The development for this project is on hold.
There are multipe side aspects I'd like to
 tackle
 with this project e.g.:
 ⦁ the creation of compelling 
high-quality environments
with dense and immersive audio-visual atmospheres, 
optimized for Virtual Reality
(PC-VR), using the 
Unreal Engine
⦁ guided sessions into
altered states of mind
 utilizing e.g. breath, spatial sounds, humming, audio/visual/haptic entrainment and binaural beats - with the goal to create deep meaningful states of being
DeepStates [VR] - TRAILER
​​​​​​​
DeepStates | Atmospherical Beings 
- Cinematic Renderings
​​​​​​​
DeepStates | 
In A Timelapse - Cinematic Renderings
​​​​​​​
DeepStates | The Bliss of Solitude - Gameplay
​​​​​​​
A Full-CG Stereoscopic 360/VR Short Film
You are gifted every moment with life's most precious achievement: A conscious mind, enabling you to sense and hold within, the universe's boundless beauty - a source of infinite inspiration that fuels your inner space.
Our way of thinking about life influences our perception of the world around us. False priorities can act like blinders and make us overlook the ever-present beauty of the universe, which can be our greatest source of energy and inspiration. A positive and grateful mindset enables us to harvest that energy to fuel our inner space and retain well-being. With this virtual-reality experience I express my own appreciation for and feelings about the gift of life. We need keep our ability to see the world through the wondering eyes of a child.
Conscious Existence
is a journey within that hopefully will touch you on an emotional level and make you transcend into a relaxed and appreciative state of mind.

This project was part of the VR NOW Initiative at the Animationsinstitut of Filmakademie Baden-Württemberg and received some support from Mettle, NVidia and Subpac. I'm always looking for partners in distribution.

The experience is dedicated to my soulmate Julie Boehm who is living exactly what this piece is about, by seeing the magic in every little thing and embellishing the world with her own creations that are a tribute to the beauty that surrounds us.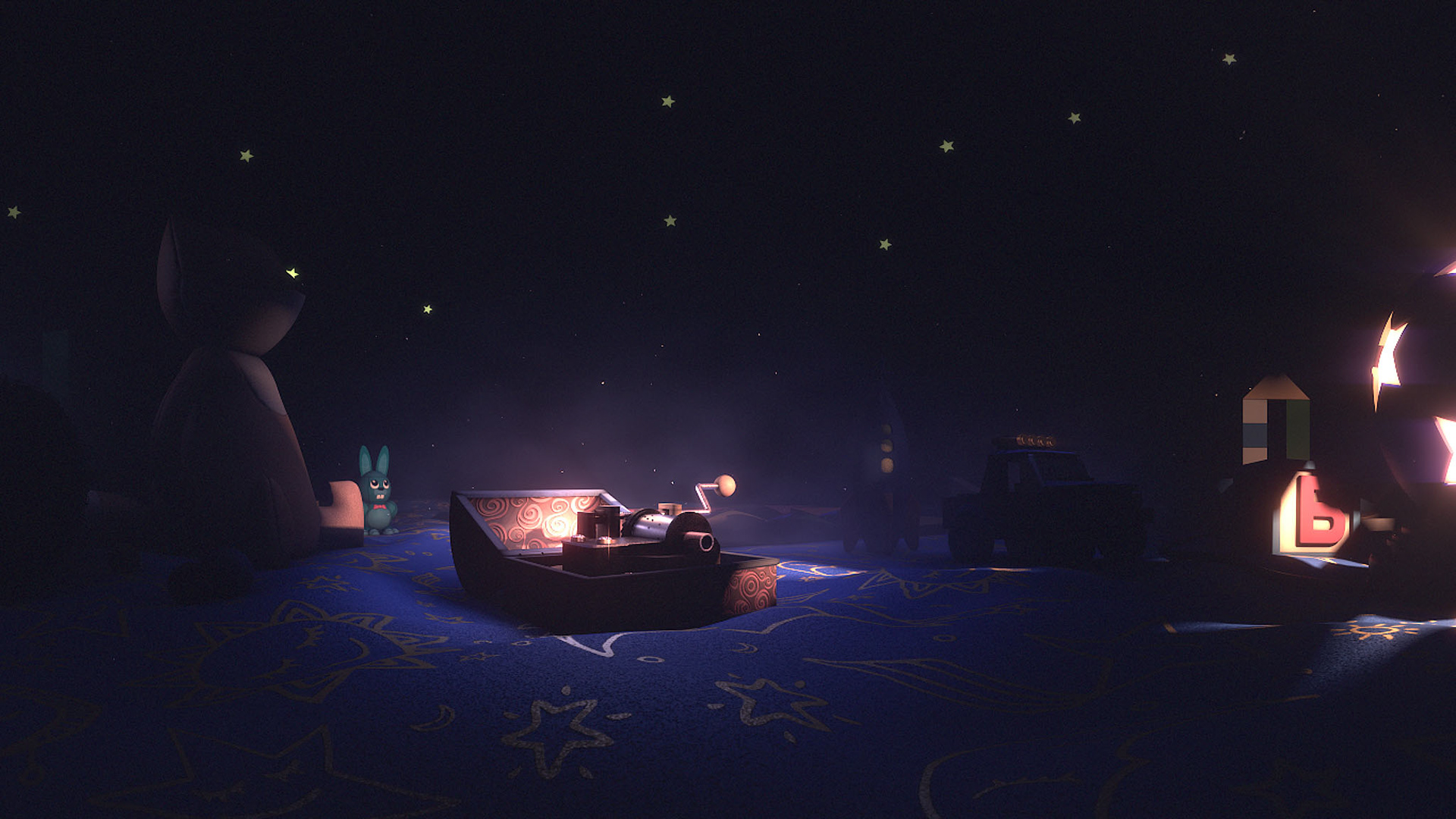 Longing for Wilderness
 takes you from the noisy city trough the slowly transforming forest to a wild and airy landscape. 
It seeks to express our desire to turn off everyday turbulences and experience nature in its rawest form - an opportunity getting increasingly rare these days.
PRE-RENDERED 360° CGI SEQUENCE FOR REALTIME-APP
CGI SEQUENCE FOR 360° DOCUMENTARY